Here are Elizabeth Elson's thoughts on her first visit to our Summer Fair: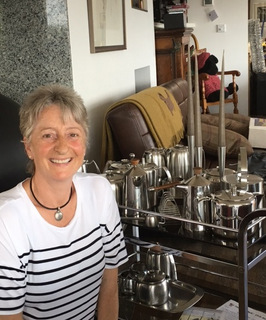 The Garners, Elsons, Barretts and Brands have long been admirers, users and enthusiasts of the Old Hall movement and wares. Until relatively recently we were unaware that such an institution as "The Old Hall Club" existed. Immediately we did, we joined with great enthusiasm, assisted by your (now our) Kathleen. Initially, we were content to associate ourselves with you all, which satisfied and indulged our secret pleasure. Several encounters with your (now our) Nigel delighted us with some of our missing obsessions being acquired - myself with a Campden triple candle holder, Uncle John with his 3.1/2 oz Connaught cream jug and for Patsy a confirmed and affirmed delight in her possession of Roland George Barrett's choice of design triumphs e.g. the Alveston tea set and the Campden coffee set. Our affiliation with your (now our) club rationalized, justified and realized our love and leaning to the staybrite steel dream. We are definitely Out and Proud.
We've been aware for some time that there was an annual gathering, organized by the club, for members. This seemed a step rather too far for us to begin with and we contented ourselves with just reading in the Newsletters of the success of these events; however, we were beginning to imagine what it would be like to share with others the extent and aspirations of our collections. Then, by chance, we realized that Patsy, one of the heads of the Garner/Elson lineage (aged 82), was to be in the UK in July on a visit from her summer home in Limoges; the date was immediately put in our diaries!
So to a feast of wares with like-minded enthusiasts, the food of the collector. We bristled with delight as we recognized years of historical family life laid out before us. Purchases were irresistible - Patsy made provision for two more of the future generation to carve their Sunday roasts with practical, safe and virtually eternal style and I bought my own birthday presents for the next two years! Malcolm, on the other hand, was able to share his special interest in Old Hall as being one of the Directors of Firth Vickers of Sheffield the company that originally produced staybrite stainless steel and which was part of the group of companies that included Samuel Fox of Stocksbridge who supplied Old Hall with all their stainless steel requirements.
A perfect day, Penkridge is a most pleasant village, our destination of satin and bright. Pudding!
So to close - I have taken a long way round to telling you what a most pleasant and interesting day we had. Food for the obsession and then really good food at the Bridge House Hotel (my lifetime's best sticky toffee pudding). On behalf of our small party, a sincere thanks to all concerned with organizing such a great day.
But ... actually I really wanted to talk about ... Adam! I think this young representative of The Old Hall Club and the Wiggin family has charismatic energy. He addressed the company in the evening with relevant information, humour and style. I am proud to be a member. Let us watch our young friend with great interest and admiration and with compliments to all his family.
Footnote - the due date arrived and we checked into the family friendly and welcoming Bridge House Hotel advising them that we'd like to join the club members for the evening meal - NOTE - in future we WILL book in through the club as we realize that this greatly assists with the planning and the seating arrangements. However, our error was soon smoothed over and we were most warmly welcomed, pleasantly seated and enjoyed the company enormously. I would have liked to sit by everyone but perhaps I'll be invited again next year ...
Click here to see some great photos from the 2016 Summer Fair.